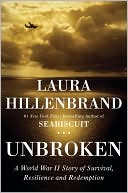 I am about three-quarters finished with one of the most riveting books I've ever read -- and that's saying something, because I've read A LOT.
This one, I heard spoken of on my favorite FOX News Channel... it's by Laura Hillenbrand (the author of
Seabiscuit
), and it's called
Unbroken: A World War II Story of Survival, Resilience and Redemption
. It's about Louis Zamperini, who was an Olympic runner and a WW2 POW in the Pacific. His story is so gripping, I can barely stand to put it down and I can't wait to find another spare moment to pick it back up again. I felt compelled to blog about it so you'd know, but I'm hurrying so I can get back to the story. I kept thinking the story would all be wrapped up in a tidy bow when he returned home, and there's oh-so-much-more to tell.
If you get the chance, do NOT miss this.